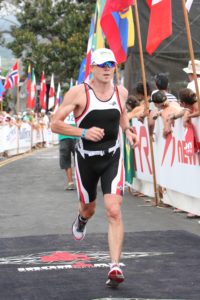 Hi Douglas … after 2 years, and the help you gave me in our Skype sessions, my running is about 98% back, but with healthy form. I am no longer limited by the painful chronic hamstring injury.

Last weekend I won the 2018 Ironman Kona in my age group by over 21 minutes and set a new course record! I will go back next year automatically qualified as a winner. I plan on doing the Ironman Boulder again in June as a warmup race. Maybe we can plan a tune-up session while I'm in your neighborhood.

Hope all is well with you. — Rich S.
---

How a virtual session works:
To start, contact me at douglas@nullradiantrunning.com, and give me a quick summary of relevant running and injury information that could include a short history of your sports/running background.
In addition, I will want you to send me a short video of you running. What I need is an unobstructed side shot and back shot of you running at an easy training pace, and a faster pace if you run speed. Best if it is taken outdoors from a vehicle that is moving along with you. If you can't arrange that, a second method that works well is: you running by a stationary camera in landscape mode, that follows you as you approach and run by. Third best is treadmill, especially if you do the bulk of your running on a treadmill. I only need a few seconds of video to get a good idea of how I could help.
I will then contact you and give you a short analysis of what I see and how I could help.
Session Options:
Single Session: $130.00
Includes:
1 to 1:15 hour long Virtual Session includes an analysis of the video you have sent so that you understand exactly what is important to work on for form correction; an exercise and running drill to get you running with a corrected form; and teaching videos of me coaching someone in person who has similar form and/or injury issues as yourself.
Three Session Package:$310.00
Includes:
Three 1 to 1:15 hour Virtual Sessions that will include analysis of the initial video that you have sent to establish a clear understanding of the form issues and corrections I am going to give you.
Drills and exercises with personal demonstration and teaching videos of me coaching runners with similar form issues. These will be given over the 3 sessions in an optimal sequence for your specific learning style.
Suggestions on how to practice what I have given to assure progress. Monitoring your progress with videos you send me in-between and/or prior to session 2 and 3.
Sessions are spread out to give you time to practice running and to make needed changes.
"Practice makes Perfect," and I find with body learning "Imperfect practice helps to achieve Perfect Results over time with Good Instruction."
International Virtual Sessions: Add $10 to Single and 3-Session package.
If you aren't sure and want to try a single session I will discount the following 2 sessions.
If you feel you want to continue after a 3 Session Package I will discount single session.
If at the current time you feel you are too injured to run, I would be able to give you exercises and drills to get the healing process going.
---
I found Douglas after exhaustive searching for a remedy to help my shin splint pain. The discomfort was making running almost impossible and I had already tried taping my legs, changing sneakers, and taking time off.

Since I reside in Massachusetts, I set up a Skype session with Douglas and sent a video for him to review ahead of time. He immediately noticed specific areas of tension and other running form issues. Together via Skype, we were able to make adjustments to my form until I was able to run comfortably and my shin splint pain was gone. At the start of this year with my shins feeling better, I decided to sign up for the Boston Half Marathon. As someone who had never really run over three miles before, I was pretty intimidated by the distance.

Douglas coached me through the spring and summer and into fall to prepare me for the race and to continue watching my form and correcting any issues as they arose. With his coaching and training schedule, I not only met my goal of completing my first half marathon, I did it at a pace that was more than a minute faster than my goal.  I could not have been any happier with the whole experience.

— Catherine