A Brief Survey of the Territory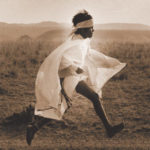 Running is a key that generates a variety of experiences and joys for a large number of people world wide, hence the astronomical increase in citizen participation in road races of every distance. This blog and ones that follow will address the topic of "Runners High", why such a thing exists, how might we cultivate it, learn from it, and weave its lessons into the fabric of our lives?
We have evolved into a species that has all the anatomy and physiology in place to excel in endurance athletics, especially running. We also have developed emotionally and mentally over time, giving us the capacity for a psychic/mystical orientation towards experience. Blend these two qualities, the endurance and mystical capacities, and a very luring hybrid emerges, commonly known as the Runner's High.
It is likely that the sense of bodily strength, lightness, and the fluid ease of movement that accompanies transcendent running experiences developed first for our nomadic ancestors. As we climbed the evolutionary ladder, our consciousness expanded from mere survival to creativity and influence on our environment, and the mystical aspects of higher emotional and mental functions developed.  Continue Reading »