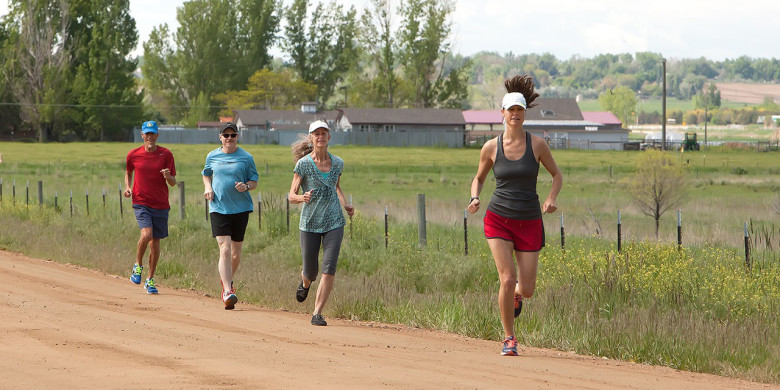 Helping runners develop their potential has been a natural outgrowth of my love of running, training as an endurance runner, and professional work with runners as a Physical Therapist. The application of my own understanding of the science and art of coaching has helped all levels of runners develop and excel.
Emphasis on Running Form Coaching, running mechanics and sound training methods can accelerate your ability to learn and improve and help you tap into your own hidden resources, thus increasing your ability, satisfaction, and joy.
If you would like coaching help, here's what you can expect from my program:
1. For every runner, running form is the foundation of a successful running program and is, in fact, indispensable to injury-free running. Running form has been one of the factors in almost every running injury I've ever worked with, and usually the most important factor.
Some other points to keep in mind about running form:
The fluid efficiency of good running form is the basis of lifelong running and is crucial to your longevity as a runner.
Good running form is at the core of successful distance running where economy and efficiency are keys to endurance and speed.
When you have good form, you derive the most benefit in terms of pure joy of artful movement and flow.
Running form is key to improving your performance and enjoyment of running, whether you're a novice or elite runner.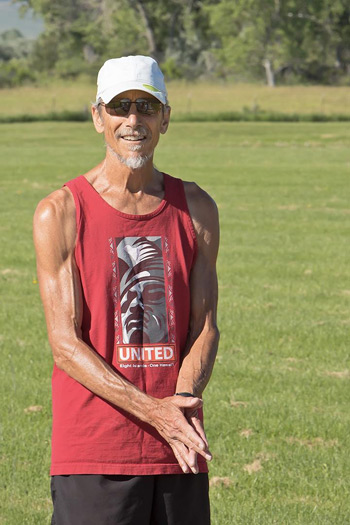 2. A structured approach to help you stay uninjured and on the road. Because as many as 60 to 70% of all runners report experiencing some kind of pain and injury each year, I believe that injury prevention and rehabilitation constitute an essential aspect of any coaching system. Keeping you free from injury is my top priority.
I have helped runners who thought their running days were behind them return to successful, pain-free running. I have worked with new and novice runners to overcome their apprehensions about getting injured and to build a strong foundation for easing safely into the sport. For more information on returning to running no matter what your age or injury, see Rehabilitation Coaching/Recovery Running.
3. A personalized running program. An important aspect of running well, whether as a fitness runner or racer, is a program that fits YOUR needs, YOUR goals, YOUR abilities, and YOUR potential. A well-designed program, together with correct running form, will create a strong foundation for your running success.
Design of your personalized running program begins with a thorough assessment of your running form and an informal survey of your athletic history (past and present), your injury history (past and present), your personal goals and intended races, your level of conditioning and training, and your scheduling and lifestyle needs. Your individual training program will be one that takes into account all of these criteria and is also flexible enough to adjust to changing conditions in your running and life.
4. Race preparation. For many runners, racing is essential to their enjoyment of the sport. If that fits your running profile, I can help with advice on race selection; pacing; mental skills' event-specific training for road, trails, hills, as well as 5K, 10K, half and full marathons, and ultra distance; race strategy; race nutrition; and taper and recovery.
5. Other recommendations. In addition to helping you directly with your running, I can provide direction on nutrition and specific dietary suggestions tailored to your training, recommendations for cross-training that fits your individual needs, and advice on shoe selection, rest and recovery, motivational issues, and adjunct lifestyle considerations.
---
Hi Douglas,

I deeply appreciate all the help you have given me with my running and my posture. I feel that with your help and guidance, elements of my running form have improved and allow me to run with less effort, less potentially harmful strain, and overall faster. My race performances over the last couple of years reflect this. It is certainly a joy to run with greater ease and see the benefit of it in my race times.

Probably more importantly, the underlying help you have given my with my posture shows in my everyday life. While this improvement is most visible in my running, I believe that my overall posture improvement helps me through every day with a more relaxed, efficient way of moving. I believe this is likely healthier overall, and I believe that I am less likely to develop various chronic pains in the future due to this improvement.

Underlying your basic teaching, I appreciate the genuine approach you take toward the fundamental movement and energy involved in running. Your love of the basic mechanics of the art of running shows in your craft. I am grateful for you skill and willingness in sharing and teaching your wisdom.

Feel free to include my times. They have improved, and for a busy guy with a demanding career and a family they are respectable times.

• April, 2009 Boston Marathon:  2:55.33 (new personal best)
• May, 2009 Flat-out 5k: 18:20 (new personal best)
• May, 2009 Bolder Boulder: 38.59
• June, 2009 Steamboat 1/2 Marathon: 1:24.00 (1st Masters; 6th overall)

Thank you,

Stuart Geer, MD
Kaiser Permanente
---
"… close to giving up on the sport altogether …"
When I began working with Douglas, after my first season of competing in triathlon, I was suffering from multiple running-related injuries and close to giving up on the sport all together.  The body awareness and relaxation techniques Douglas taught me have helped me improve my form, increase my speed, and enjoy running.

Douglas is incredibly perceptive regarding body mechanics and is able to give me seemingly small adjustments that make an enormous difference in the ease of my running form and my ability to call up more speed.  He incorporates unique imagery and visualizations that help me understand how efficient, effortless running should feel.  And being able to see myself in motion on video is a powerful reinforcement of what I'm learning.

With Douglas's help, I have decreased my easy, aerobic pace by more than 90 seconds per mile, and my tempo pace by nearly 2 minutes per mile while remaining injury free.  Most of all, I really find running to be a joy rather than a chore, and look forward to continually improving into the future."

— Hazel Porter
---
Hi Doug,

I had a good Bolder Boulder today and I wanted to let you know that I was thinking of what I learned from you the whole way and wanted to thank you for your help. I ran 50:19, 40 seconds faster than two years ago (my last time) and good for 7th place in my age group (64).  This in spite of my hamstring acting up a couple of weeks ago which resulted in almost no running since that time. Also, on Saturday, the day before, I raced the grueling Morgal Bismark bike race. I wasn't even sure I'd run the Bolder Boulder until the afternoon before.

I remembered to stay upright, lean slightly forward, and above all take short strides and rotate through the middle.  This greatly helped me to relax and find a rhythm.

Thanks again for your help and hope to see you again in the future.

— Robert Unger, Ph.D.
---
I've worked with Douglas for about 4 years. I've been down a few times with injuries, but in each case, they were related to my form and were fixed quickly and without major reductions to training. Heck, I even "ran through" a sprained ankle for 20 miles one time … it wasn't about bearing the pain, it was about correcting the form and letting my body move naturally and efficiently. There was no pain."  (Read Troy's whole letter)

— Troy Lerner, Denver, Co