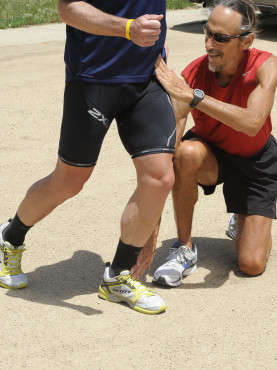 I have combined a training in traditional sports medicine with a comprehensive study of current holistic approaches to the body, healing, and movement. And over the last 25 years have developed innovative and personalized methods to help my clients overcome many injuries that are rooted in posture, structure and form. In addition to applying these methods to a wide field of activities, forty-five years of distance running and fifteen years of intensive endurance training and racing has given me a personal understanding of the specific injuries and problems associated with running. My method of working with runners has a significant impact on injury rehabilitation, injury prevention, form efficiency and performance.
Both in one-on-one sessions and in workshops and clinics I have helped thousands of runners and athletes of all levels and ages to overcome body and training based injury and performance limitations.
This approach has had success in a wide range of clinical applications, rehabilitating many orthopedic injuries as well as structurally related health problems such as arthritis, indigestion, learning disabilities, exercised induced asthma, and balance.
My own testimonial: Prior to my Ultra Running career I was injured any time I tried to exceed 25 miles a week. That was my upper limit. And it wasn't until I received instruction on how to use my body when running did I start to enjoy the ability to run more and not be plagued by injury and layoffs and the disappointment that accompanied these. The idea of "how to use my body" was unique when I first heard about it in conjunction with Running Form improvement. Now having studied the body and worked as a Physical Therapist for thirty years, and having myself been coached from the perspective of "learning and improving" in form, endurance and performance, I have gained a personal and professional appreciation of the "How" we learn to improve our movement skills. I bring this understanding into all my work with Runners, Running Form and Technique.
Classes and Consulting Resume
The University of Colorado Woman's Cross Country and Track Team
The Colorado High School Coaches Association
Boulder and Denver Fit Marathon Training Groups
Phidippides Track Club
Encouraging Hands Music School
The Colorado Harpist Association
The City of Boulder Aerobic and Strength Conditioning Coaches
The City of Ft. Collins Wellness Center
The City of Littleton
Boulder County Wellness
Jeffco County Wellness
Colorado Wellness Coalition
The Avon Three Day Walk-a-thon
Lakeshore Athletic Club
Apex Recreation Center, Arvada; Two Day Running Clinics
Amgen Corp.
Ball Aerospace
Sun Microsystems
Tyco Healthcare
Qwest
IBM
Level 3
Seagate Corporation
University of Hawaii Dept. of Adult Education, Maui Campus
Mile High Triathlon Club
Racing Accomplishments:
Ad Astra Ultra Relay 100 K Champions
 Sunmart Texas Trail 50 Miler, First Place 50 Year Age Group
 Crown King Scramble 50 Miler, First Place 50 Year Age Group
Six time Leadville Trail 100 finisher, 3 time First Place 50 Year Age Group
Two time Western States 100 Endurance Run, Silver Buckles
USATF National Road Championships, Masters 2nd Place 50 Miles
 USATF National Trail Championships, Masters 3rd Place 50 Miles