Six Common Running Injuries
Healing on the Run is a method of training while injured with the intention of healing common running injuries through the use of specific visualization, focuses, and running form corrections. This method is highly successful because it augments the body's innate ability to heal more quickly when mobile. When allowing all the soft tissue; muscles, tendons, ligaments and joints to move through their proper range of motion while running, there will be an enhanced healing effect due to increased flow of blood, lymph, and energy to the area. When indicated, this method of healing injuries can not only significantly reduce lost training and downtime but also aid in the rehabilitation of chronic, acute, and traumatic running injuries and prevent them from reoccurring.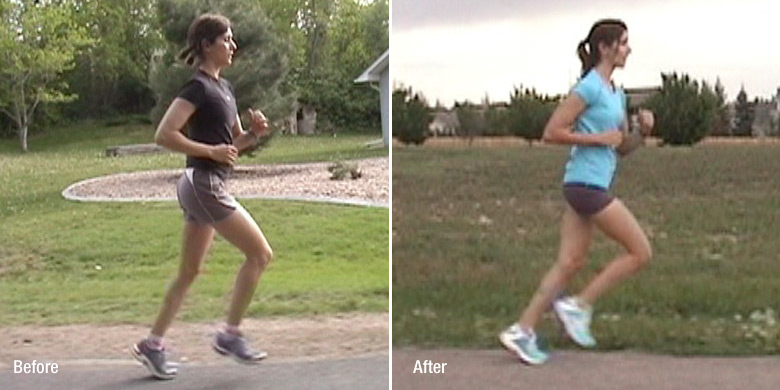 Our body is the master strategist when it comes to getting from A to B.  When the body isn't working harmoniously it will make whatever compensations necessary to achieve the goal we place before it. If one part isn't doing its job or is doing it inefficiently, other parts will compensate. It may not be efficient or graceful, but it will get the job done.
The Healing on the Run methods are designed to correct the postural patterns and movement patterns that have contributed to, and will continue to reinforce an injury.  Most overuse injuries become apparent during a definable incident such as: overtraining in worn out running shoes, or a sudden departure form your usual routine; but the underlying cause that resulted in your vulnerability to this particular injury needs to be corrected to ensure a speedy and complete recovery. And insure that the injury doesn't return and become a chronic irritation.
Each of the injuries addressed here will be explained considering the basic malfunctions or substitutions in movement patterns, and compensations in muscular effort. My hope is that this information and accompanying videos will help illuminate the cause as it appears in your running form and offer you guidance towards improving your technique to help resolve the aches and pains that inefficient, faulty movement have generated. These six particular injuries also lay the basis for healing a number of other running injuries, especially injures that occur in similar parts of the body.
The Injuries:
Many other common Running Injures such as Patellofemoral Syndrome, Runner's Knee, Heel Pain, SI Joint pain, Low Back Pain, Lumbar Pain, Hip Pain, Neuromas, Calf Pain, and Compartment Syndrome can be resolved using the Healing on the Run Method.
Visit Rehabilitation Coaching / Recovery Running to see how Radiant Running  can help you get past your injury.
Disclaimer:
The information that follows is not intended to replace a sound medical understanding of the injury, but to support that understanding and offer an alternative to layoff and lost training. Supporting this process with the help of a therapist trained to see the specifics of a form issue that have resulted in pain is highly recommended.
---
Achy Knees
My knees never gave me any trouble, even after marathons, until all of a sudden I was waking up in the middle of the night with achy knees. After a year of frustration, physical therapy, supplements, and a visit to an orthopedic surgeon I tried Douglas's approach.

After the first video session I felt I was a hopeless case but I practiced his techniques anyway. My first trail race after our session I noticed a difference and my knees did not hurt at night!  A few weeks later Douglas's videotaped me again I definitely look like a different runner. My knees are much better and the best part is that I am running again, consistently!

Summer Kennedy
Program Supervisor, Health and Wellness
City of Boulder
---
Knee Pain
I have been pleasantly surprised at the results that I have seen in my running in only a short time of seeing Douglas. I came to Radiant Running for a knee injury that was not getting better. Having rested it for six weeks along with icing it and taking ibuprofen, I resumed running only for the pain to return. Douglas has taught me a whole new way to run by changing my form and teaching me to run relaxed, without holding tension. I saw immediate results after our initial visit and was pain free after only two visits. Thanks to Douglas, I have a bright running future ahead of me.

Cindy
Recreational Runner, Firestone, Colorado
---
Low Back Spasm and Pain
The last time I had a major back spasm, I wasn't sure if I would ever run again. I had tried medication, stretching, and other forms of physical therapy, only to relapse.

Douglas provides something totally different from any other physical therapy I've tried. I wasn't just given a few exercises to try until things felt better – I've learned how muscles work, the specific mechanics that were actually making my pain worse, and physical therapy approaches that are specific to running. I now run faster, stronger, and further than I did before my injury."

James Kerley, Denver, Co