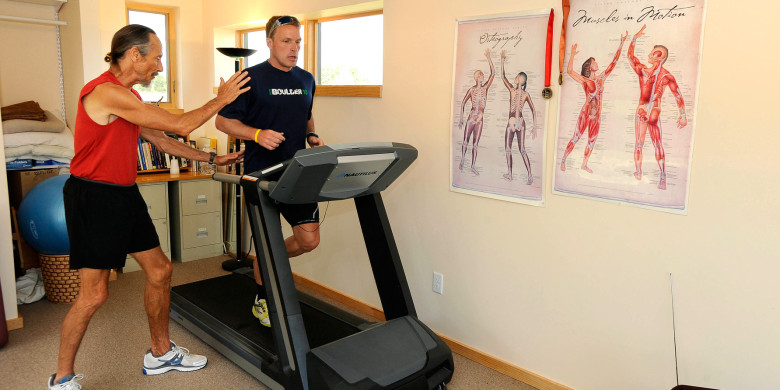 Have you been frustrated by a health care provider who told you that you shouldn't run anymore, or perhaps that running is bad for your knees? I have more than 25 years of experience as a Physical Therapist, a background in Sports Medicine, 40 years as a distance runner, and a resume that includes thousands of miles of ultra-distance running and racing. Specializing in running injury and training, I have a deep understanding of each injury—what the injury feels like, what prognosis or outcome can be expected, and how to help a runner overcome the injury and its limitations.
I've treated these types of injuries: ankle sprains, ankle strains, avulsion fractures, back pain, broken femur, broken metatarsals, broken toes, bulging discs, calf pain, foot pain, fractures of the tibial plateau, groin pulls, hamstring pulls, herniated discs, hip flexor soreness, hip pain, IT (iliotibial) band syndrome, knee pain, meniscus tears, neuromas, patella femoral pain syndrome, plantar fasciitis, quad pulls, rib fractures, sciatic pain, shin splints, sprains and strains of every conceivable kind, stress fractures, tibialis anterior tendonitis, and tibialis posterior tendonitis.
My professional and personal experience have taught me when an injury can be run on and when it can't. I know how to determine the root cause of an injury, be it technique, training, equipment, or a combination of these, I understand the interplay between a runner's body and mind and the role each plays in successful running, and how to work with runners to either get them back on the road ASAP or heal the injury with no or little loss of running base.
If you are seeking help in overcoming an injury, here's what you can expect:
Video analysis of your running form (if you are able to run).
An interview to find out your running history and injury history (including the history behind your current injury).
Whole body assessment with muscle and postural testing to determine any muscle and structural imbalances that may be contributing to the problem.
A plan of action designed to treat the root cause (and not merely the symptoms) and get you through the injury as rapidly as possible, with a minimum of lost training. Depending on the nature of your injury, this plan may include a program of running form correction, therapeutic exercises (such as stretching, strengthening, and somatic retraining) when appropriate, and beneficial cross-training when indicated.
"Not only do I want to get you back to running, training, and racing, I want you to have the tools and knowledge of how to use your body so that you can remain injury-free."
---
I've worked with Douglas for about 4 years. I've been down a few times with injuries, but in each case, they were related to my form and were fixed quickly and without major reductions to training. Heck, I even "ran through" a sprained ankle for 20 miles one time … it wasn't about bearing the pain, it was about correcting the form and letting my body move naturally and efficiently. There was no pain."  (Read Troy's whole letter)

— Troy Lerner, Denver, Co